Psoriatic arthritis (PsA) is a chronic, inflammatory disease of the joints and where tendons and ligaments connect to bone. It is a form of arthritis that affects some people who have psoriasis — a disease that causes red patches of skin topped with silvery scales. Most people develop psoriasis years before being diagnosed with psoriatic arthritis
It can start at any age and may affect children. The disease often appears between ages 30 and 50. For many people, it starts about 10 years after psoriasis develops, but some develop PsA first or without ever developing or noticing psoriasis.
SYMPTOMS OF Psoriatic Arthritis
Joint pain or stiffness.
Joint swelling or warmth.
Pitted nails.
Nail separation.
Lower back pain.
Swollen fingers or toes.
Eye inflammation.
Foot pain.
Though there is no cure, there is a growing range of treatments available to help stop the disease progression, lessen pain, protect joints and preserve range of motion. If you have or suspect you may have PsA, it is extremely important to work with a doctor who specializes in Arthritis and related diseases in to find the right treatment plan. Early recognition, diagnosis and treatment of PsA can prevent or limit the extensive joint damage that can occur in later stages of the disease.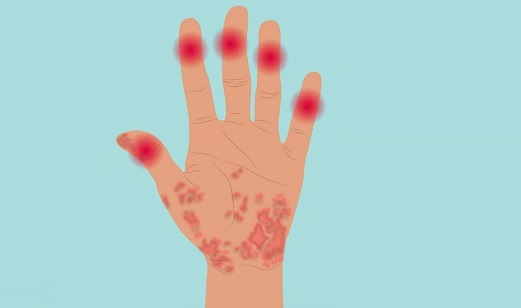 Conditions that can mimic psoriatic arthritis include:
Axial spondyloarthritis.
Enteropathic arthritis.
Gout.
Osteoarthritis.
Plantar fasciitis.
Reactive arthritis.
Rheumatoid arthritis.
What You Can Do
Treatments for PsA range from oral medications that reduce inflammation and swelling to biologic therapies that are injected or infused, while targeting specific parts of your immune system to combat PsA symptoms and slow joint damage.
You should see a doctor to receive the highest standard of specialized care for your joints and connective tissues.